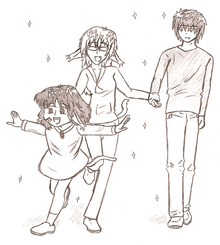 Carissa Sammanthia McHeartly Von Necron is a dream daughter of Meki McHeartly and Out.
Personal Details
Edit
Appearance
Edit
Carissa is a black haired girl with furry ears. She wears white dress, black pendant and white shoes. She has a plaster on her right cheek.
Personality
Edit
Carissa looks like a very energetic and happy person.
Carissa was Out's dream he had after night with Meki McHeartly.
Valentine Arc

Carissa is mentioned few times. She was the reason why Out couldn't drink beer. After a while he wakes up with Meki McHearly, realizeing she was a dream and that he just banged Meki.
---