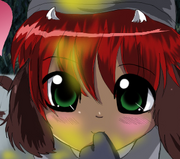 Information
Edit
Name: Kyonoth Dennis Kaiba
Alias: Kyo Kaiba
Age: 22 Height: 4'9"
Weight: 119 lbs.
Sexuality: Homosexual
Marital Status: Single (divorced)
Description: Kyo has always been the underdog of anyone he meets. He's an adult, but he can pass up as a child according to his appearance. Right now, he's friends with Ronnie and seem like a little sidekick to the Beer Wonder. Little is known about how he has horns (and dog ears w/ tail) and his relation with Hazel.
Kyo used to be a teacher in another collaboration comic. Unknown about it in Character House.
Kyo's a vegetarian yet he has spoke of this. It'll be revealed later on.
The dog that would most likely represent Kyo would be an English Toy Spaniel.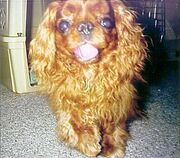 Ad blocker interference detected!
Wikia is a free-to-use site that makes money from advertising. We have a modified experience for viewers using ad blockers

Wikia is not accessible if you've made further modifications. Remove the custom ad blocker rule(s) and the page will load as expected.