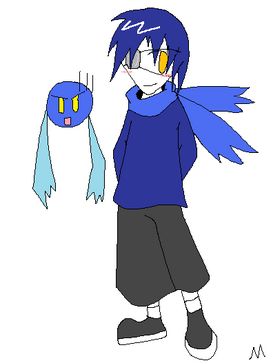 Pyro is a 15 year old boy who stumbles upon the Character House after setting fire to another building in the city. Looking for a place to escape after doing such a act he finds a room to stay in the house. Pyro travels with his manipulative sidekick simply referred to as Ball. Ball is the one who causes Pyro to set fire to things when he switches his mood to evil in which his body color changes to red. While Pyro is in his pyromaniac mode he has no control and does not realize what he is doing. The good thing is that he rarely does this but if he ever does you'll know definitely. Is there a way to stop Pyro before he sets fire to something? Maybe...
Pyro likes chocolate cake, sparkly objects, fruits, and hugging random people.
Pyro dislikes when he unknowingly burns something, Balls attitude and manipulative personality, and rude people.